The Training and Placement Cell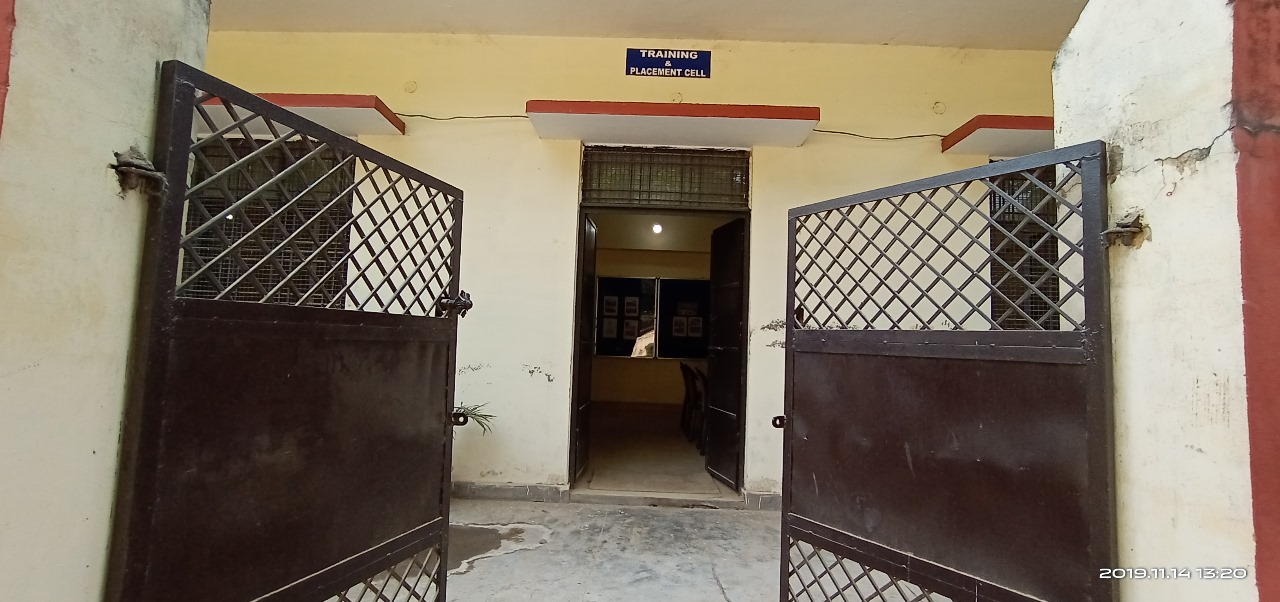 Career and Guidance Cell was established in the year 2005,under the competent leadership of Dr. Sheo Harsh Singh, Associate Professor, Department of Political Science. In the year 2017-18 it was reconstructed as the Training and Placement Cell. Dr. Rachana Singh, Associate Professor, Department of Medieval & Modern History is currently the Convener of the cell. All the members of the Cell Dr. Avinash Pandey, Dr.Shaista Irshad, Dr.Shiv ji Verma, Dr.Harshmani Singh, Ms. Divya Pandey, are efficiently carrying out their duties of providing the students with the best possible exposure to employability skills and opportunities.
The cell strives to create an intellectual environment in the college where each student is encouraged to step beyond the confines of the academic disciplines to explore newer vistas. The Training and Placement Cell serves as an interface between the students and the corporate world. The Cell organises events to expose students to various conventional and non-conventional career options. All the members of the Cell believe that it is their duty to not only provide the students with employment opportunities but also to extract and nurture employability skills in them. For this purpose, apart from bringing various companies to the campus, the placement cell also organizes guest lectures, training programs, internship opportunities, communication skills and personality development workshops for the students. The Cell in association with various companies often organises career guidance workshops. During the past years, firms like IIBM, Career Launcher, IILM, Mangalain Institute of Management, Franklin India Limited and many others have visited the college and conducted career guidance workshops for students.
The Cell in association with MEDHA has organised a 'Career Advancement Boot Camp' for the students of in 2018,2019 and 2020. It has further organised a twenty-day/forty hours communication skills and personality development workshop in association with Mahindra Pride School (MPC), for final year undergraduate and postgraduate students. More than 200 students participated in this program. The cell also conducts Value Added Course on Vocational Guidance and Career Counselling.
The Cell actively works in providing the students with an exposure to multiple job opportunities. It ensures the largest possible participation of students of the college in the Career Melas. It further liaisons with various companies and invites them for holding campus interviews for final year undergraduate and postgraduate students. In the past, it has invited companies like Apex Laboratories Pvt. Ltd, Chennai, Shining Star India Pvt. Ltd., WIPRO Technologies, HCL, Rays Insurance Marketing Pvt. Ltd., Envisage Infotech, Jeevan Rakshak Life Multi Services, Bajaj Alliance, Mahindra & Mahindra, Azim Premji Foundation, Piramal Foundation, Maruti Suzuki, Times Pro, ICICI bank, Anand Rathi and many others.
On 15 February 2020 mega JOB MELA was organized by the Training and Placement Cell in collaboration with MEDHA, 15 renowned companies like ICICI Prudential, Arohan Financial Services ltd., Bajaj Capital, HBD Financial Services, Piramal Foundation, High beam global,Vardhman , Teleperformance, Vinuthna Fertilizer, Konnect Peers etc. were invited for this event.
More than 400 students participated in this mega event from the University of Allahabad and various colleges i.e. S.S Khanna Degree College, Ewing Christian College, SHUATS etc. 215 students were shortlisted and 99 students were finally selected.
The cell has been extremely successful in nurturing soft skills of students, generating employability skills in them and building their confidence to face the challenges of the competitive world.
Training and Placement Cell

SN

Name

Designation

1.

Dr. Rachana Singh
Convener
OFFICE ORDER
2.
Dr. Manoj Kumar Dubey
3.
Dr. Rashmi Jain
4.
Dr. Shaista Irshad
5.
Dr. Vivek Kumar Rai
6.
Dr. Avinash Pandey
7.
Dr. Uday Pratap Singh